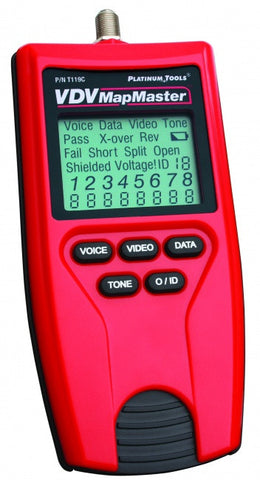 Platinum Tools T119 VDV MapMaster
The VDV MapMaster combines continuity testing, mapping and tone generator functions into a single unit. Capable of identifying and mapping 19 locations at one time. Whether your jobs are commercial or residential, the versatility of the VDV MapMaster makes it an installers best friend!
Tests Voice (6 wire), Data (8 wire) and video (coax)
Easy to read, extra large 7-segment LCD screen with large icons
Tone generator with selectable tone cadence and selectable pins carrying tone
RJ (Voice & Data) master remote stores in bottom of case
Map 19 locations at one time, remotes sold separately
Tests and indicates pins with shorts, opens reversals, miswires and split pairs
Displays 'Pass' icon for correctly wired T568A/B 8 & 6 pin and crossover/uplink
Low power consumption for long battery life
Auto Power-Off
Made in the USA
NOTE: For all the capabilities of the MapMaster and length measurements, purchase the MapMaster 2.0.
APPLICATION
Tests CAT-6, Cat-5e, Cat-5, Cat-4, Cat-3 and coax cables
Tests shielded cables
Mapping - video and data cables can be connected to their respective remotes at the same time to improve testing efficiency of 'tech' cable (both data & coax cables in one jacket)
Patch cables may be tested without removing the master remote from storage
Mapping - optional data and video, custom ID remotes (numbered 1 thru 19) for locating cable runs to wall outlets are available (see accessories)
Cable test results displayed in wire map format with connector pin numbers
Voltage detection warning icon
LOOP ON - sets up continuous mode which is useful for trouble shooting intermittent problems
---
We Also Recommend