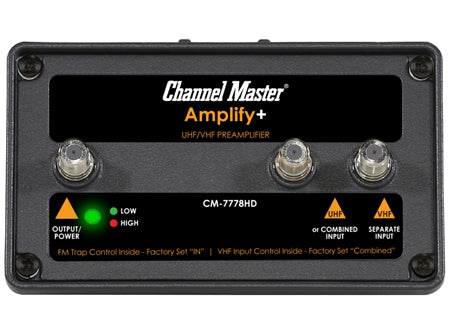 CHANNEL MASTER AMPLIFY+ OUTDOOR ADJUSTABLE GAIN PREAMPLIFIER
Amplify+ is an outdoor preamplifier designed for mast-mounting with the TV antenna(s). Professional installers may choose options for High gain, Low gain, FM signal blocking and band-specific dual antenna use if required.
Unlike the consumer-ready Amplify product, Amplify+ does not include a USB powering option for indoor use.
Outdoor Heavy-Duty Housing
Amplify+ is constructed of a die-cast metal housing with weatherproof ports to support outdoor installations in extreme weather conditions.
Adjustable Amplification
Amplify+ provides adjustable settings that allow the installer to select the appropriate gain required for a specific installation scenario, eliminating the potential issues encountered from either too much or too little gain. The internal switch can be placed at either a High or Low setting.
Adjustable FM Trap
Amplify+ provides a trap mechanism to block unwanted FM Radio signals from FM-enabled commercial TV antennas, which can cause interference with UHF and VHF television signals. Pass-through of FM signals can be enabled or disabled via an internal switch.
LTE Filtering
Like the consumer-ready Amplify product, Amplify+ provides LTE signal filtering. The proliferation of LTE signal towers and connected LTE devices are a growing cause of intermittent disruption of over-the-air broadcast television signals. These disruptions can result in weak signals, pixelation or even channel loss, and can be especially disruptive when an amplifier is used with a TV antenna.
What's Included
AMPLIFY+ TV Antenna Amplifier
Power Inserter
Power Adapter
Mounting U-Bolt
(2) Mounting Screws
Installation Guide
1-Year Limited Warranty
Features
Improves Signal Quality
Dual Antenna Inputs (VHF & UHF)
Switchable FM Trap
Decreases Pixilation
May Increase Number of Channels
Ultra Low Noise
Adjustable Gain
Blocks LTE Interference from 3G/4G Smartphones and Transmitters
EMI & FM Out of Band Filtering
Heavy Duty Rating for Outdoor Use
Mast Mounted for Close Proximity to Antenna
---
We Also Recommend